Doctors & Staff
Meet the experienced and friendly doctors and staff who make Lifetime Eyecare the leading provider of vision care products and services in McCook, Cambridge, & Oberlin.
Dr. Rob Stamm
Dr. Rob Stamm received his bachelor's degree in biology from Nebraska Wesleyan University and his doctor of Optometry degree from Illinois College of Optometry where he specialized in retinal disease, contact lens fittings, and low vision.
He has been trained in prescribing the latest devices for low vision and to help in restoring reading and driving privileges. "I really enjoy helping people to see again when they have been told nothing more could be done to help them with their vision." He also enjoys practicing full scope optometry with emphasis on glaucoma, contact lenses, See to Learn, dry eye treatment and refractive surgery consultation and co-management. "I love what I do and every day you learn something new. The eye care industry is constantly changing with technology and advancements. It is exciting to be able to be a part of such an advancing profession that can touch so many lives from young to elderly."
Dr. Stamm, and his partner, Dr. Dirk Gray are committed to their patients and providing the highest quality of eye health care!
---
Dr. Dirk Gray
Dr. Gray is a native of western Nebraska, growing up in Imperial and Sutherland. He graduated Cum Laude from the University of Nebraska at Kearney with a degree in biology. He received his Doctorate of Optometry from Indiana University and earned membership into Beta Sigma Kappa Honorary Society for academic excellence. He is a member of the American Optometric association, Nebraska Optometric Association and serves as Society President. He currently serves on many boards including CASA, and various church committees. He volunteers his time performing See to Learn and Headstart Vision Assessments for preschool children.
Dr. Gray is dedicated to providing eye care to all age groups. He has a specific interest in contact lens fitting, management of eye disease, and low vision therapy. He also enjoys providing glaucoma management of eye disease, cataract and Lasik surgery co-management. In his spare time, Dr. Gray loves spending time with his family including wife Sandra, two sons Kade and Joel, and the family dogs Max and Hank.
---
Dr. Regan May
Dr. Regan May grew up in Phillipsburg, Kansas. She received her bachelor's degree in Family Studies and Human Services from Kansas State University and her Doctorate of Optometry from Indiana University. While at Indiana University, she was inducted into Gold Key International Optometric Honor Society for excellence in leadership.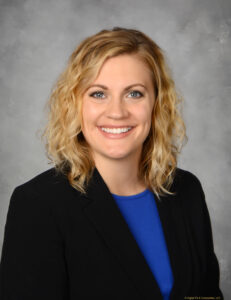 Dr. May enjoys providing eyecare services for all ages. She has specific interests in management of ocular disease, pediatrics, myopia management, and dry eye treatment.
Dr. May resides in Oberlin, Kansas, with her husband, Zach, and their dog, Lenny.
---
Staff
Amy
Amy joined Lifetime Eyecare in March of 2007. Amy is the Quality Control Coordinator here at the LEC. Her  helpful nature will take care of any insurance billing questions or explanations.
---
Pam
Pam began with Lifetime Eyecare in 1996 and became a Certified Paraoptometric in 2005. Pam is our Clinic Coordinator. She will perform many computerized tests necessary for completion of your comprehensive eye health evaluation. She will also help to educate you on the most appropriate lens choices for your vision needs. Those vision needs may not be glasses, but contact lenses. Pam has an extensive knowledge on the various contact lenses. She will be able to guide you in your contact lens application and removal process along with answering any questions you may have regarding your contact lenses.
---
Sandy
Sandy joined Lifetime Eyecare in June of 2009. Sandy is our Optical Coordinator and is great at selecting the best frame styles for a patient needs and wants. She will assist you as you look for and decide on new frames and lenses. Her talent for matching frames with personalities will guide you to the best new look. Sandy can also help you with your contacts or contact lens questions. Sandy is now Certified Paraoptometric since May 2019.
---
Cherri
Cherri joined the LEC team in August of 2011. You can find Cherri in our optical. Her warm smile will make you feel at ease while she helps you find that special frame and select the best options for your lenses. Cherri can also help you with adjustments, vitamins, and contact lenses, along with any other questions you may have. Cheri recently become a Certified Paraoptometric in May 2019.
---
Bailey
Bailey became part of the LEC team in September of 2015.  You will find  in the clinic to prepare you for your  eye exam. Bailey will conduct computerized test and accumulate information for the doctor to see for your exam. Her touching smile will bring a smile to your face before seeing the doctor.  Bailey became a Certified Paraoptometric in January 2019.
---
Angela
LEC welcomed Angela into the team in January of 2014. Angela will put her clinic expertise to work for you as she performs the computerized tests and gathering information for the doctor to see you for your appointment. Her patient nature has calming affect on people as they prepare to be seen by the doctors. Angela became a  Certified Paraoptometric in February 2018.
---
Rachel
Rachel joined our Lifetime Eyecare family in September 2017. She is always ready for a challenge and is excited to be apart of the front desk team.  We feel that she will be a huge asset to our team. Patients enjoy her  bubbly personality. Rachel recently became a Certified Paraoptometric in January 2019.
---
Stacey
Stacey became apart of the LEC team in September 2017. She is cross trained in multiple areas and is really enjoying the contact with patients.  Stacey will greet you with a warm personality as you walk into the door of Lifetime Eyecare.
---
Shelby
Shelby joined the LEC family in October 2018. You will find her in the optical with her warm smile.  Shelby is prepared to be helpful in all areas and strives to each patient their best experience at Lifetime Eyecare.
---
Tina
Tina joined the LEC family in June 2019. You will see Tina in the optical department here in McCook office and Cambridge office. She is really excited to help patients find there perfect pair of glasses and any other optical needs they have.
---
Tasha
Tasha recently joined the LEC team in December of 2020.  You will see her welcoming smile and bubbly personality at the Cambridge office and McCook office. She's always ready to asset you to get you where you need to be.
---
River
River became part of  Lifetime Eyecare team in December 2020. She will be happy to get to checked in and direct you to where you need to go. River's friendly smile will welcoming you to the office.
---
Hailey
Hailey joined the LEC team in December 2020. You will see her cheery personality while she helps you pick up a new pair of glasses or sunglasses.
---
Monica
Monica recently joined the LEC team in August 2021. Congrats!
---
Laura
Laura became apart of the LEC team in August 2021. Congrats!
---
CeAnna
CeAnna joined the LEC team in August 2021. Congrats!